Today is the last day of the #AFS149 Trade Show! Stop by our booth to find out how we can make an IP-67 (water-imme… t.co/QS7L5c6vne
We are all set up at #AFS149! Stop by and check out our new sensitive handheld Ares receiver #fishnwild
Show

Media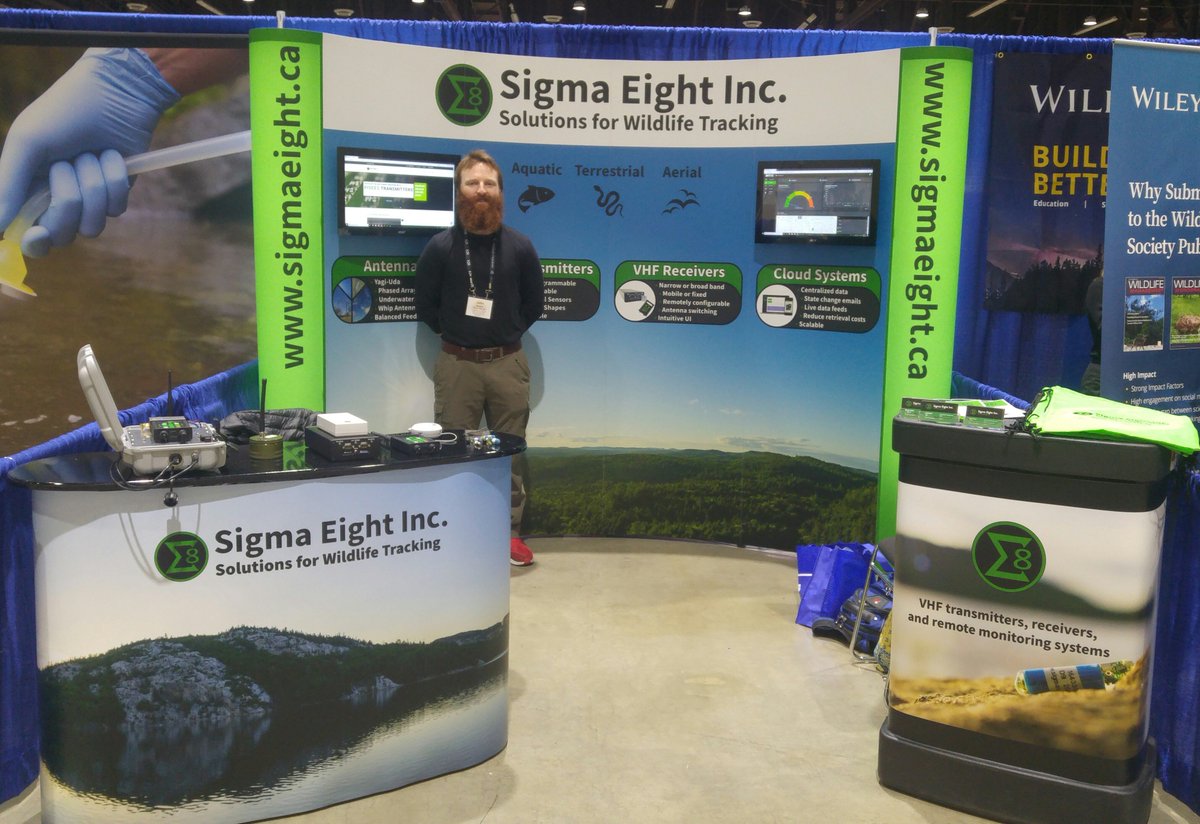 Up bright and early for our flight to Reno for #AFS149! Looking forward to learning about all the exciting new rese… t.co/rsRPLBOE49
Why choose radio telemetry?
No matter your budget size, the need for cost-effective equipment is always high. Our radio telemetry products are feature rich and reliable, utilizing modern tools to make tracking easier. This allows researchers to concentrate on the results of a study, rather than spend the majority of time obtaining them. Some advantages are:
Water or Land Use
Radio telemetry works for fresh water and terrestrial use.
Noise Tolerance
In water, acoustic transmitters are more susceptible to noise.
Wireless Access
Allowing internet access enables live data, and more automatic data collection.
Vehicular Tracking
It is possible to detect transmitters via plane or car.
Modular Design
Our radio transmitters are easy to customize, and add/remove sensors.
Cost-effective
Compared to other methods, radio telemetry is one of the lowest cost solutions.
Our most popular radio transmitters Guaranteed to meet your requirements, or covered under warranty
TX-PSC-I-27-D
NEW
INTERNAL tag
150 DAY estimated lifespan*
1.5g weight
TX-PSC-I-450-M
INTERNAL tag
5 YEAR estimated lifespan*
MORTALITY detection
9.0g weight
TX-PSC-E-450-T
EXTERNAL tag with mounting holes
5 YEAR estimated lifespan*
RUGGED design
9.0g weight
TX-PSC-I-1200-M
INTERNAL tag
14 YEAR estimated lifespan*
MORTALITY detection
16.0g weight
*strongly dependent on transmission programming
What makes Sigma Eight unique?
State of the Art Radio Telemetry
We update our products frequently to keep up with modern technology.
Collaborative Research
Contact other researchers in your field through our sister site, BioTelem.org
Programmable Tags
Extend battery life of transmitters by initializing transmission schedules.
Remote Downloads
Download receiver data from anywhere in the world.
Seamless Receiving Systems
Have up to 50 antennas report into a single database with the MITAS system.
Multiple Tag Types
Track multiple radio transmitter types with the Orion receiver.
Easily Scalable Systems
Our tracking products make it easy to add new sites and resources.
Experts at Tracking
We will be able to help you setup and optimize your research for radio tracking.
Lowest Prices
We have the most competitive prices in the wildlife tracking industry.
How do I get started with radio tracking today?
Contact us with details about your wildlife project We'll do the rest.
Custom design - our engineers will design to suit your tracking needs.
Years of experience, leading to high quality products and reliable systems.
Orders can be expedited to meet your time constraints.
Information at your fingertips with our Education Material
Understand more about the capabilities of our products and RF tracking.
Get more out of your wildlife research, find answers to your technical questions.
Contact other wildlife researchers and support the tracking community through BioTelem.org.